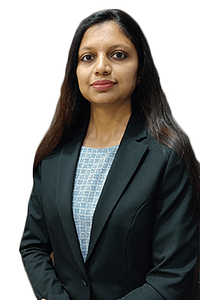 Shruti Gupta, a Fellow member of The Institute of Chartered Accountants of India. She is a technically agile professional with over 11 years of experience in the arena of Taxation, Statutory and Legal compliant, Audit and Financial Analysis by providing apt solutions to the Companies and clients.
She is associated with Taxpert Professionals as Senior Manager. She adept at managing direct and indirect taxation and adroit at managing the entire gamut of all GST and Income tax matters ensuring statutory compliances and safeguarding the Company's interest.
She has handled matters related to Assessment and Appeals, Search and Seizure, Department Audits, Internal Audit and Statutory Audit, Concurrent Audit and Stock Audit of the Banks.
She possesses a clear focus on meeting the evolving needs of the clients. Develop a client experience that is consistent with the company positioning, promises and values. Seeks to develop long term and sustainable client relationship to better understand client priorities.
Phone: +91 9897868769
Email: shruti@taxpertpro.com